The Death Penalty in Kenya (2019)
Kenya has not carried out an execution for over 30 years. Thousands however remain on death row and continue to be sentenced to death due to the automatic nature of the death penalty.
In December 2017, the Supreme Court of Kenya declared the mandatory #deathpenalty unconstitutional. What does this mean and how will it affect prisoners currently on death row and the future of sentencing in #Kenya? Working with the Kenyan Taskforce on the Review of the Mandatory Death Sentence, we have developed a short video to address these questions.
To watch this video in Swahili with Sign Language please follow this (link)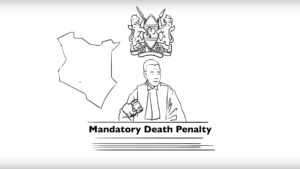 Video credit: The Death Penalty Project (2019)